CFTE is proud to be a partner of the MENA Future of Fintech event, on the 9th & 10th of February, that aims to navigate the fate of a growing fintech sector in the region. MENA has experienced accelerated growth in fintech, catalysed by COVID-19. The region's aim now is to strategically plan how to reap true benefits from this evolving landscape. Aligned with MENA's goal, CFTE aims to extend their support as Tram Anh Nguyen, CFTE's co-founder, delivers a keynote, during the event, on the roadmap to reskill the workforce for this booming sector.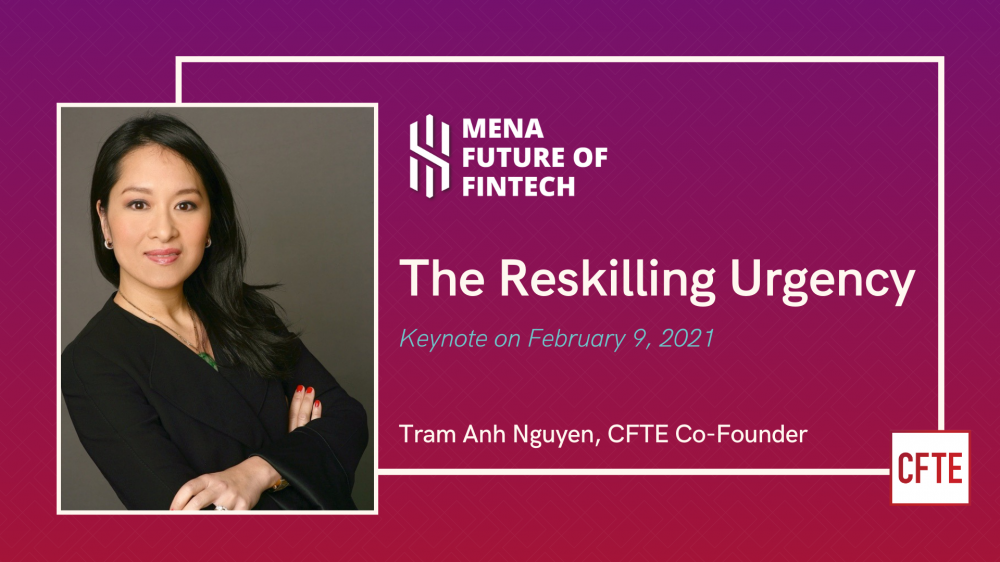 The COVID-19 pandemic has accelerated fintech growth in MENA's financial sector, forcing businesses and governments to craft a strategic response to this sudden spurt of growth. The MENA Future of Fintech event on the 9th and 10th of February 2021, aims to bring together thought leaders in the fintech scene so they can collaboratively fabricate the best way forward. Aligning with their vision, the Centre of Finance, Technology and Entrepreneurship (CFTE) is honoured to partner with MENA Future of Fintech to support their efforts, along with CFTE's valued partner, ADGM.
CFTE has been an active contributor in bolstering the growth of finance professionals in the MENA region by upskilling and reskilling the workforce to disrupt the traditional mindset in finance. Notably with Abu Dhabi Global Market's Academic body, ADGM Academy, as they co-developed the AI in Finance certification, aiming at making banks in MENA AI-Ready.
Extending our efforts to help the MENA region gain new skills at scale, Tram Anh Nguyen, CFTE's co-founder, will be delivering a keynote speech on the "Reskilling Urgency". The Keynote aims to prompt action by addressing the reskilling urgency, demystifying the current skills gap and shedding light on possible opportunities to overcome challenges in the education and training landscape.
CFTE is proud to join forces with the MENA Future of Fintech event, that will also feature an astounding line up speakers, comprising of David Hardoon, Senior Advisor for Data and AI at UnionBank of the Philippines and Ritesh Jain, Co-Founder of Infynit, who are also Senior Lecturers and Experts at CFTE.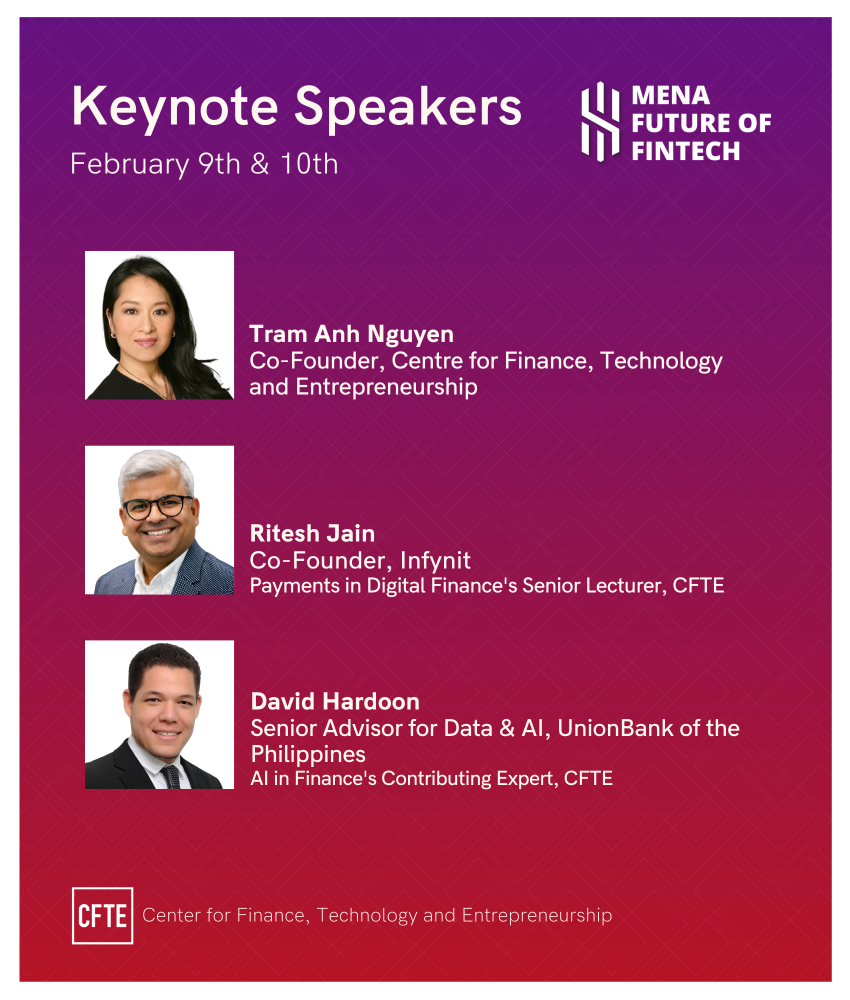 ---
Follow us on social media for more updates