The UK Independent Continuing Professional Development Accreditation has recently accredited the Payments in Digital Finance online specialisation as more finance professionals enroll to the course amid a global transformation of the payments landscape.
It is astounding to see how a global pandemic has had the power to transform the payments industry, making decades worth of change in a few months. Physical-distancing measures coupled with changing consumer behaviours amid the health-crisis, caused revenues from the payments industry to experience a sharp decline. However, some sectors rebounded, as payments continued in a new form, with a shift in consumers using point of sale (POS) to digital commerce accounts. As forecasted by Accenture, this shift in behavior and practices will turn into the 'new normal' with an expected 2.7 trillion transactions turning into cards and digital payments from cash, within the next decade.
This global transformation raises many questions about knowledge and skills. As stated by Deloitte, today talent is one of the top three concerns of payments leaders. In the light of this predicament, individuals and organisations need to seek reskilling and upskilling development programs to get ready for those new technologies.
CFTE and BIB's Payments in Digital Finance Specialisation was specifically designed for this matter. Curated by digital finance leaders, policy makers and academics, this specialisation gathers the most up-to-date knowledge within the payments sphere, aiming at giving finance professionals the right set of skills for the years to come. The recent accreditation of CPD confirms CFTE and BIB's mission of supporting professionals when learning new skills, as they will now be earning CPD credits for their lifelong career portfolio.
Finally, with Payments in Digital Finance being accredited, all CFTE courses are now accredited in the UK by CPD. Read more about the international accreditations CFTE courses received.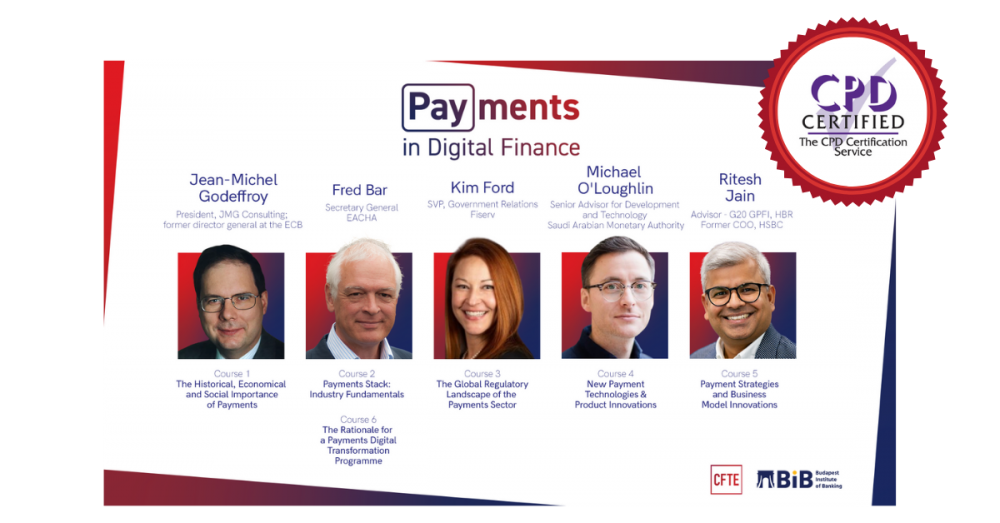 ---
Follow us on social media for more updates