Last week, CFTE held a virtual graduation to celebrate innovators from HSBC who successfully completed the Fintech Foundation and Artificial Intelligence specialisations with CFTE. The event included an exciting panel discussion with senior leadership from HSBC, Railsbank and CFTE, who brought forth different perspectives on innovation, technology and AI in finance.
The 26th of February, 2021, marked the graduation day for the trailblazers in digital finance from the British Multinational, HSBC. This successful virtual graduation was the opportunity to welcome the learners to CFTE's community of over 80,000 alumni around the world. Being a member of CFTE's prestigious alumni community will provide the newly graduated HSBC cohort the opportunity to network with fellow finance professionals and get involved in the Fintech community.
The virtual graduation organised by CFTE and HSBC also helped the community gain some valuable insights into how Fintech and technologies in finance are progressing in today's evolving landscape. Tracy Paradise, Group Head of FC Strategy & Framework at HSBC, shared her experience of completing the AI in Finance course and how she applied it in real-life projects.
The event also had fantastic panel that consisted of – Steve Suarez, Global head of innovation at HSBC, Richard Boyns, Group head of Capital at HSBC, Nigel Verdon, CEO at Railsbank, Christopher Blake, Group Treasury, HSBC, along with CFTE's co-founders, Huy Nguyen Trieu and Tram Anh Nguyen. The panel touched upon hot topics brewing in finance like – the use cases of innovation in finance, the impact of technology, the benefits of AI in treasury and global finance and Fintech's impact on banks.
Skilling more than 600 banking professionals with digital and technological capabilities is the hallmark of a major bank pioneering change for a new era of finance. Completing the CPD and ACT accredited Fintech Foundation course and the AI in Finance specialisation, helped equip learners with an understanding of the current Fintech environment and the potential of artificial intelligence to truly reshape finance as we know it. Thus, giving HSBC's talent the know-how to lead the next leg of the race of digital finance. CFTE and HSBC will continue to work together to provide tools and knowledge to their employees in key topics around digital finance. We are thrilled to see another major bank pushing their boundaries to achieve digital transformation and hope to see this trend follow through in the banking industry as a whole.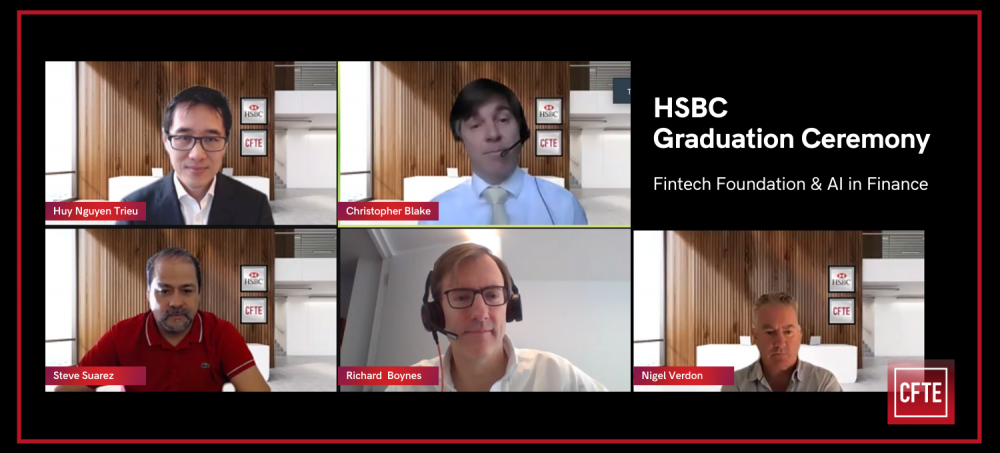 ---
Follow us on social media for more updates