The industry is ripe for disruption. A fast-changing ecosystem means that the digital transformation in finance is being spearheaded by many FinTech startups and FinTech companies. The situation of FinTech in the UK is no different, and our co-founder Huy Nguyen Trieu recently moderated a panel discussion titled "The Past, Present and Future of AI" at the annual Digital Money Symposium, organised by Citibank.
Challengers arise
A separate panel discussion moderated by Ronit Ghose, was led by Dr. Leda Glyptis, Megan Caywood and Michal Kissos, discussing how opportunities have seen three types of challenger banks appear. The first type is the standalone challenger bank, which are usually FinTech companies streamlining banking services to offer more convenience at a lower cost. Incumbent-led challenger banks are the second type, which are launched within traditional banks through investment in technology. The third type are the BigTech created banks, originating from companies such as Google or Tencent, leveraging on their far-reaching network to quickly acquire users when they branch out into finance.
It is also extremely encouraging to see an all-female panel, highlighting how amazing women in finance are spearheading this change in banking for the better!
Data is key
One of the key takeaways highlighted by Alex Manson of Standard-Chartered is that data is a huge asset, but timing is a big challenge, a notion echoed by Huy, David Robson of IBM and Cristina Alba-Ochoa of OakNorth. Jonathan Larsen, the CIO of Ping An also shared a nugget of wisdom that foresees "a whole raft of new technology that will not only have impact in finance but the whole workforce in the world". It is only a matter of time before the first leaders in the digital transformation in finance pull away once they have figured how to utilise  data assets efficiently.
AI is helpful, not harmful
Another takeaway from the session was David highlighting how AI is not designed to take away valuable jobs, but only to replace mundane ones which allows more focus in key areas. This also led to another point he brought up, citing the importance of adapting to AI in order to keep up with the pace of change. In order not to be part of the lost generation, he tells others to "dip your toe into AI, build your skills, bring value" and put it into a machine-learning algorithm. This is very much in line with the work of CFTE contributing expert and CEO of Starling Bank, Anne Boden, who described her mission to transform banking forever.
A huge thank you to Citi and Ronit for inviting us to Citi's Digital Money Symposium, and Megan, Leda, Michal, Vanessa Colella, Annerie Vreugdenhill and Philippe Gelis for sharing their wisdom.
Ronit will also be back at the CFTE Campus, Level39 on Friday, 7 June 2019 to speak about the Citi report of Bank X: The New New Banks. Apart from presenting the report, he will discuss several topics including the future of banking, emergence of new entrants and transformation of the industry with CFTE co-founder, Huy Nguyen Trieu, and the audience.
Join us for an afternoon of learning and networking with the who's who of London's Fintech community.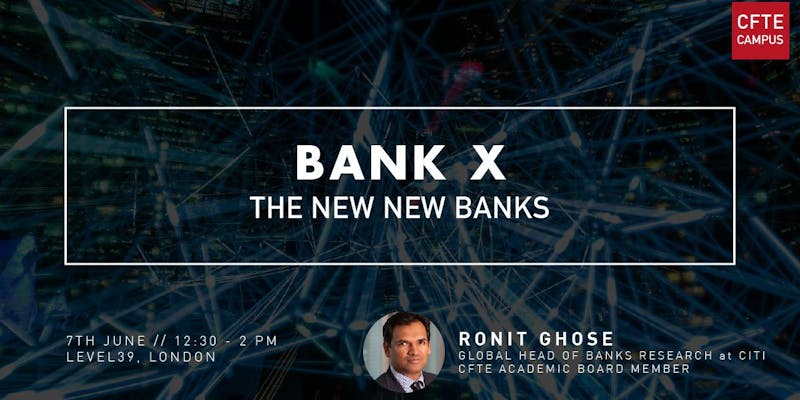 Click here to register for this event.
As always, for the latest developments and events in AI & FinTech, feel free to subscribe to our weekly newsletters after the jump below!
About CFTE

We are a platform supported by senior leaders from the largest institutions, startups, and universities. We address the needs of professionals in finance to upskill in a rapidly changing industry being transformed by emerging technologies. More than 50,000 participants learn from our online courses, such as AI in Finance, Fintech Foundation or Extrapreneurship, a mini-MBA with fast-growing startups such as Revolut or Shift Technology.
Latest posts
Next Events[MEC id="3937″]